4 - 8 - 12
The increasing value of an aroma, of a flavour, of a pleasure.
4 - 8 - 12, three elegant single-dose oil cans, three different olive oils, obtained from our own olives.
Intensities rising, thanks to the different cultivars, the fruit harvest time, the harmonious ensemble of their oils.
The ideal, funny and practical solution to match our oils to your dishes. 4 - 8 - 12 an original idea to discover the charming world of the artisan oil.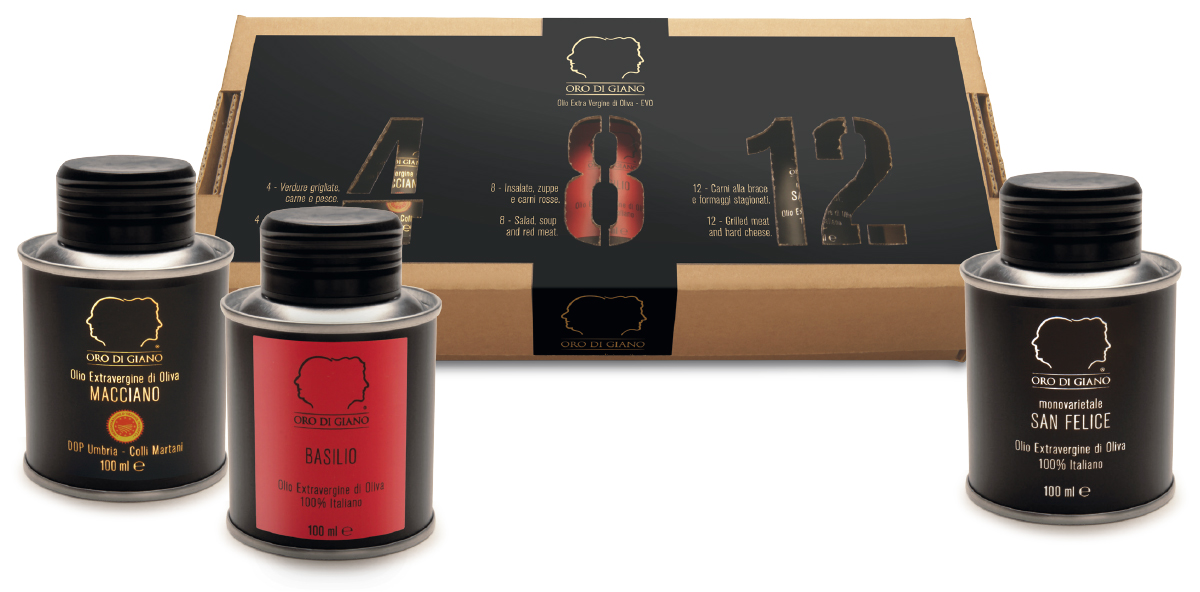 4 - PDO Macciano Umbria - Colli Martani, from cultivars Moraiolo, Frantoio, Leccino and San Felice.
Olives harvested in the first days of november.
An oil ideal on legume soup, grilled vegetables.
8 - Basilio, EVO extra virgin olive oil, from olives harvested in mid - October. Ideal for preparations, in the kitchen and on the table, on bread, vegetable soup, red meat.
12 - Only one variety of olives, the San Felice; green olives, harvested at the beginning of October.
The charme of the herbal hints, the harmony between bitter and spicy flavours, the personality of a unique olive oil.
Good on salad, vegetables, roasted fish, grilled meat, hard cheese.