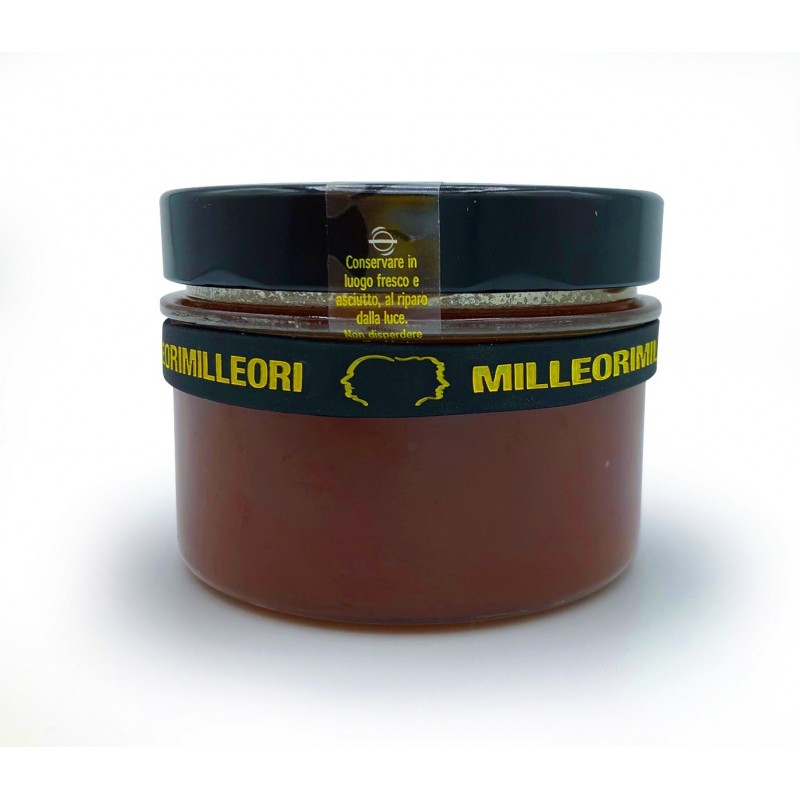  
ITALIAN MILLEFIORI HONEY 250 GR
Millefiori honey 250 gr
Our MilleOri honey is produced naturally, using artisanal methods. Our bees flutter in the hills on our crops (mainly sunflower and alfalfa). The color is clear and transparent; the taste is sweet, delicate and balanced, with strong fruity notes; the scent is soft, with herbaceous notes.
The transparent packaging allows a visual taste of nectar and is enriched by a rubber label, which can be used as a bracelet.
Millefiori honey is unique because it combines the properties of various plants. It is rich in minerals and antioxidants; it strengthens and increases physical energy and - as a natural antibacterial - is a great ally of the throat and liver. Used externally, it strengthens skin and hair.
NUTRITIONAL CHART
| | |
| --- | --- |
| FAT                           0.0 gr | PROTEIN                        0.3 gr |
| of which saturated     0.0 gr | COLESTEROL                  0.0 gr |
| CARBOHYDRATES    82.0 gr | FIBRE                            0.2 gr |
| of which sugars       82.0 gr | Energy Value for 100 gr 304 Kcal |
Data sheet
Tipology

100% italian

Container

Transparent glass jar

Capacity

250 gr
Secure payments Easy, simple and secure payments with PayPal or credit card (via PayPal).

Delivery in 48/72 hours Shipment within 48 hours from the order Delivery by express courier, free of charge at a cost of 75 € or more.

You can exercise your right of withdrawal without incurring any penalty, within 15 working days from the day on which you received the order.