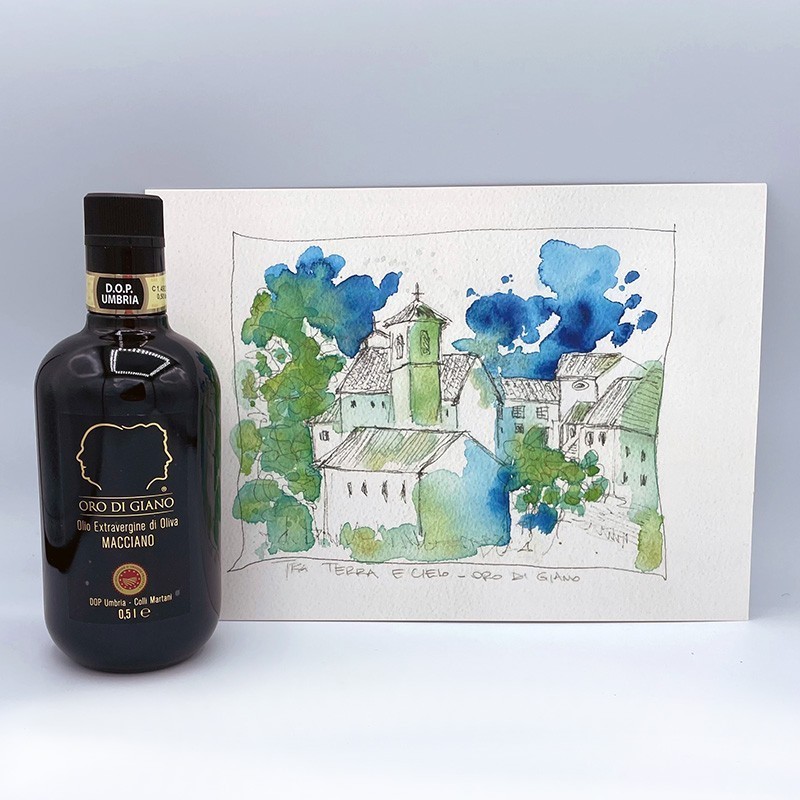  
BETWEEN EARTH AND SKY • MACCIANO DOP UMBRIA COLLI MARTANI + WATERCOLOR
Macciano DOP UMBRIA COLLI MARTANI with a limited edition print.
Tra terra e cielo (Between earth and sky) is an idea that took shape this summer in the square in Macciano. It's the synthesis of the unconditional love for this territory and its unquestionable beauty, shared by Roberta Graziani and me, friends since ever; it's a small series of prints numbered and signed in original by Roberta. A beautiful project because it is based on common roots and moves in the pleasure for small things. The work is dedicated to two fathers, Martinello and Graziano, who saw this green land and cultivated it with passion before leaving it.
Beautiful watercolors that represent symbolic places of our territory, our history, our families... A limited edition, only 100 copies per subject, which embellishes our bottles. The second one: Oro di Giano Macciano e la Piazza di Macciano: our first quality EVO, a DOP UMBRIA Colli Martani and the little square with the church designed by my grandfather.
The Macciano is our first oil, the starting point... a good start!
It is the true expression of the territory, of its aromas and scents. A small production certified DOP UMBRIA Colli Martani. It is a light oil, versatile, suitable for all palates and all tastes. It has personality but it is not invasive...
Acknowledgements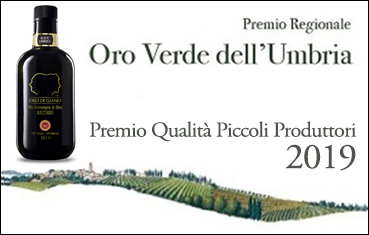 Data sheet
Campaign

2021/2022

Tipology

Blend of Moraiolo, Leccino, Frantoio, San Felice. Limited production, numbered bottles.

Container

Glass bottle with topping cap

Capacity

L. 0.5

Fruity

Light
Easy, simple and secure payments with PayPal or credit card (via PayPal).

Delivery in 48/72 hours Shipment within 48 hours from the order. Delivery by express courier, free of charge at a cost of 50 € or more.

You can exercise your right of withdrawal, without incurring any penalty, within 15 working days from the day on which you received the purchased products.